Donations to T.E.R.N. are used to fund projects of the Georgia Nongame Conservation Section.  This part of the Georgia Department of Natural Resources relies on private funding to operate and carry out its mission to conserve nongame and endangered species.  T.E.R.N. has low overhead and is able to pass 93% of donations directly to the Nongame Conservation Program.

Ways to donate:

Become a member of T.E.R.N.

  Student $10

  Individual  $20

  Family  $25 

  Suporting Member $100+          

Give cash and securities.

Give auction items for the Weekend for Wildlife

event held in February at The Cloister Resort,

Sea Island, Georgia to raise money for the

Nongame Conservation Program.

Donate your time and assist us with

The Weekend for Wildlife.

This is our primary fundraising event.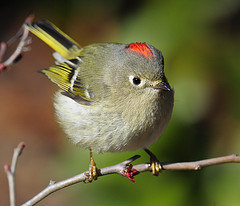 Ruby-Crowned Kinglet

Photo by David Cree